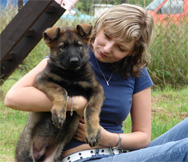 ---
Secure payment:
---

LITTERS/INDIVIDUAL PUPS CURRENTLY AVAILABLE:
Click on the pictures of individual litters to see more details.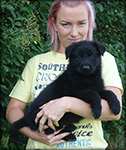 EIKO v.d. Magie x ATTA Adnaf litter. The litter was born May 4 2018 and there are 2 short coated solid black males and 1 short coated solid black female available. Puppies are strong and agile with strong heads, short bodies and great appetite. The litter is done within the frame of 5th bloodline of former DDR dogs and purely Czech working dogs. Puppies will be suitable mainly for personal protection, family protection and law enforcement work. The natural suspicion towards strangers is guaranteed. Puppies will also be suitable for the future use in a breeding program that will want to breed healthy and strong working dogs.
---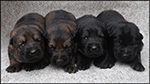 Zako Max z Jirkova dvora x AKIRA v. haus Antverpa litter. The litter was born May 17 2018 a there are 1 solid black male and 1 sable female available. Puppies are strong, healthy with strong heads and imposing black sable color. This breeding is a gathering of blood of RENO Jipo Me, XAC z Pohranicni straze and further GERO z Blatenskeho zamku. This is a guarantee of strong males with excellent working temperaments that can be used for personal protection, law enforcement and also sport. This is a repeated breeding. Puppies from the first two litters excel in strength of their bones, strong heads, very nice black sable color and great working drives. Easy trainability and strong health are guaranteed.
---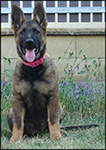 VIDEO: click here
Sarko z Jirkova dvora x ENNY Adler Bohemia, elbows O/O, hips 0/0, titled ZVV1, BH, IPO2, showed as very good, 1st breeding class
CHITA Black Adler Bohemia, DOB March 4 2018. CHITA is 3 months old strong agile female with very nice sable color. CHITA is socialized and through training her interest in ball is developed. She is trained to walk in different environments, on different sufaces, climbing hurdles and her sniffing traits are cultivated. She is a great prospect for family protection dog, future brood female and also as a S&R dog.
---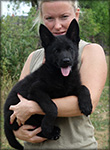 EIKO v.d. Magie x CITA z Golha, elbows O/O, hips 0/0, titled ZVV1, ZVV2, showed as very good
Puppies were born April 5 2018 and there is 1 solid black male available. This is an intraline breeding. Puppies are balanced, strong with balanced drives. They are great prospect to be used in the future for breeding, law enforcement, top sport, personal and family protection. We guarantee health, easy trainability and large body frame of the puppies.
---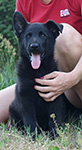 Gao z Jirkova dvora x UMA z Jirkova dvora litter. The litter was born April 13. 2018 and there are 2 solid black males available. This is an intraline breeding where at the same time the blood of PANTER and JAGUAR Aritar Bastet is accumulated. Both parents have strong bones and are rather larger dogs. They have typical temperaments of working dogs. You can expect strong bones, strong heads, large body frame and balanced working temperaments of the puppies. Their expected use will be ranging from family protection dogs to sport dogs to law enforcement dogs. We guarantee strong health, strength and easy trainability of the pups.
---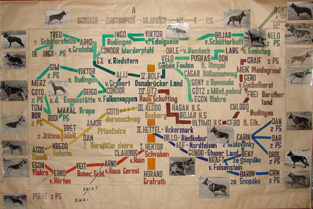 Puppies posted on this website are coming either directly from our breeding program or they are litter picked individuals from litters that come from the breeding of our stud dog to a high quality working female not directly owned by Jinopo.CZ.
We can guarantee to our potential buyers that the puppy they receive is going to be quality individual with strong bones, head, perfect pigmentation and with perfect nerves and overall health.

You can reserve any of the puppies from either of the litters now!
Where to locate us? Click here.

t: +420 724 240 359
f: +420 315 629 714
Jinopo@Jinopo.CZ
www.Jinopo.CZ

---
EXPECTED LITTERS

Name
Expected due date
EIKO v.d. Magie x GAMA Nokafi
March 17 2018
EIKO v.d. Magie x ATTA Adnaf
April 30 2018
GAO z Jirkova dvora x UMMA z Jirkova dvora
April 8 2018
ZOOB z Jirkova dvora x JADET z Perigonu
April 9 2018
ZOOB z Jirkova dvora x OFELIE z Jirkova dvora
April 17 2018
SARKO z Jirkova dvora x GABI Jirysu Bohemia
April 22 2018
---